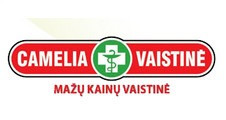 Work hours:
I-VI: 10.00 - 21.00
VII: 10.00 - 18.00
CAMELIA chain has a successfully designed, developed and constantly improved sales system for medicines, pharmaceutical and other type of products, also its own infrastructure, organization of operations, marketing strategy and other elements, which are the advantage of CAMELIA pharmacy group and a warrantor for successful operations.
We are concerned about development of company operations, diversification of product and services range and their quality; therefore we make investments to our team, company management, and up-to-date technologies and seek for quality standards. Each year we invest to the market research.
The conducted research shows that in selecting a pharmacy the customer is mostly interested in the price and diversity of products, therefore we want you to find the widest range of products at low price at our pharmacies.
CAMELIA is a dynamic, flexible and fast growing company!